I've seen #theDress.
I've seen it blue and black, only to look back a few hours later and see it gold and white.
I've read the articles explaining they why's and been amazed that two people can see the exact same thing totally different.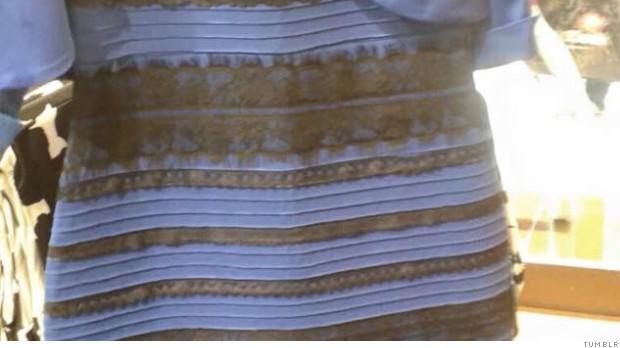 I should not be amazed by that fact – because I have been married for almost 25 years and I have seen over and over again how two different people can see the exact same thing completely different.
It is one of the mysteries of married life.
There is another mystery of which #theDress reminded me – and it is far more supernatural than a matter of perspective and pixels.
#theDress has reminded me of a Biblical doctrine I hold dear.
Imputed Righteousness is a big doctrinal term that simply means that the moment I accepted Christ as the payment for my sins and placed my dependence upon Him in faith – God no longer sees my sin but sees instead Christ's perfect righteousness.
God is just and holy and without sin.
God hates sin.
The Bible says He cannot even look at sin – He is THAT holy.
The problem is that there is a holy God; but I am sinful.
A God who loves all mankind – me; but who cannot look at my sin.
But Christ…
He came, He died and He paid for my sins.
Grace poured out freely for all who will accept His sacrifice a complete pardon is offered.
It works like this, God cannot look upon sin; but He loves me.
So He sent His son to pay the payment for my sin – to take care of the fine that had been incurred because of my sin (separation from the God who loves me but cannot be around or look upon sin).
In His love, He showed me His gift
- Christ Himself. He promised if I would depend upon what Christ did I would find freedom from the sentence of separation from a holy God.
Yet, how could this work?
How could a God who is just and holy and cannot be around sin – have a relationship with me – even if I accepted the offer?
I'm still sinful.
One sin – has made me a sinner for life.
Here is where the doctrine of imputed righteousness comes into play.
God has set it up that when I accept by faith what Christ did when He paid the price for all my sin – God applies the righteousness of Jesus Christ to my sin.
In other words, when God looks at me – He no longer sees my sin – He sees the righteousness of Christ.
No longer is there a separation between me and God (my sin).
There is a way now for me to know and experience the fullness of the love of God – thru Jesus Christ.
It's like #theDress; some see gold and white while others see black and blue.
I can see my sin, friends and family can see my sin; but since the day I accepted Christ's work on the cross – God looks down and no longer sees sin – He sees Christ.
There are no blemishes, no stains, and no sin.
So when God looks at me He sees Christ's purity.
The color we would use to describe this would be white.
Jesus Christ died on the cross and paid for my sins; and for yours too.
I have accepted His payment for my sins and I now am able to have a personal relationship with God.
He sees me as pure – clean from sin because of Christ.
His offer is still valid.
"Whosoever shall call upon the name of the Lord shall be saved."
If you have not accepted His gift I would beg you to do so today.
There is nothing more beautiful than a relationship with a loving God.
It truly is my most valued treasure.
So, when God looks at you what does he see – sin or Christ?